Eurovision diplomacy: Israeli Arab-Jew duo hope to show that peace is possible – at least on a stage
Israel's image abroad is a bit tattered. Can Eurovision come to the rescue?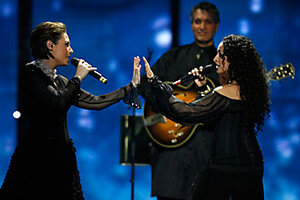 Sergei Karpukhin/Reuters
With alto voices blending in rich harmony, Achinoam Nini and Mira Awad trade verses in Hebrew and Arabic and then end in the refrain, "There must be another way."
Dressed in black, Israel's entry in the annual Eurovision song contest struck a note of peacnik earnestness Tuesday night at the annual American Idol-style pageant that prizes kitschy pop and stage shows heavy with pyrotechnics.
"The most politically correct act of the contest," declared the television host, who announced the Arab-Jewish singing duo had advanced to the final round Saturday night.
That was the feat many Israelis were probably hoping for. President Shimon Peres, in fact, said the Nini-Awad duet would be a chance for good publicity, given its venue on a stage that attracts hundreds of millions of European viewers.
"The fact is that both of them are performing together and singing for peace," said President Peres, a Nobel laureate.
Ms. Nini, a Jew with striking Yemeni features, is known by her stage name "Noa." The singer-songwriter has toured with Sting and Sheryl Crow and has composed music to complement James Bond's derring-do on screen.
Ms. Awad, who grew up in a Galilee village that lacked proper sewage treatment, is an actress/singer who won Israeli hearts with performances, including Eliza Doolittle in "My Fair Lady."
---