In Jerusalem, an uptick in demolition orders of Arab homes
Amid Netanyahu's Washington visit, human rights groups say the city's new mayor has presided over an increase in initiatives that could thwart Palestinian statehood.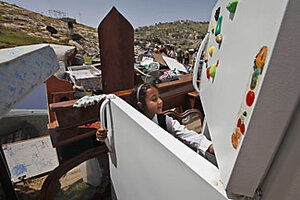 Tara Todras-Whitehill/AP
While Israeli Prime Minister Benjamin Netanyahu is in Washington getting an earful from US lawmakers about the need to stop Jewish settlements and establish a Palestinian state, back in Jerusalem the new mayor is implementing a very different policy.
Since taking office in January on promises to develop the city equitably, Mayor Nir Barkat has stepped up demolition orders of Arab homes in East Jerusalem, charged an Israeli human rights organization on Tuesday. In addition, he is moving forward with a $100 million development plan that would further diminish the city's Arab population and thus thwart Palestinian efforts to establish a contiguous state with a capital in Jerusalem.
According to the report by the Association for Civil Rights in Israel (ACRI), 1,052 demolition orders have been issued since the beginning of the year, 34 of them signed by Mr. Barkat himself. So far, 23 have been carried out.
"The many demolition orders issued in 2009 suggest that this number will rise dramatically by year's end," the report stated.
The Mayor's office turned down an interview request but said in a statement the the "arguments of the ACRI are misinformed and wrong, accompanied with great disinformation; they are inflaming the issue in an irresponsible way without knowing the accurate facts."
---