Israeli cabinet to consider loyalty oath for citizens – including Arabs
On Sunday, Netanyahu's government votes on two bills designed to shore up support for Israel as a Jewish state.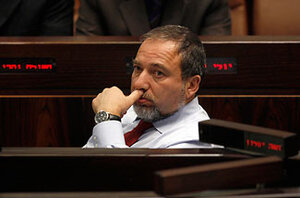 Ronen Zvulun/Reuters
After riding an ethnically divisive campaign to third place in Israeli elections, Foreign Minister Avigdor Lieberman's party is using its newfound political leverage to push legislation that would force Arab citizens to formally recognize the Jewish character of the state and clamp down on freedom of speech.
On Sunday, cabinet ministers will vote on whether to introduce a pair of bills to parliament, the first of which would institute a loyalty oath as a requirement for citizenship – a proposal at the core of Yisrael Beytenu's campaign promise of "no citizenship without loyalty." The second would outlaw public expressions of grief over the Palestinian displacement in 1948 – known as the nakba, or catastrophe – on Israel's Independence Day holiday.
The proposals are an attempt to push back against Israel's one-fifth Arab minority as they assert their Palestinian identity more openly and show solidarity with the West Bank and Gaza Strip, most recently during Israel's January war against Hamas.
At the heart of the issue are two interlinked fears. Israeli Jews worry that a growing Arab minority is challenging the Jewish character of the country. Arabs, who don't identify with the country's flag or national anthem, see recognition of the state's Jewish character as enshrining their status as second-class citizens.
Although the status of Israeli Arabs has normally taken a back seat to peace negotiations with the Palestinians, the new leverage of Mr. Lieberman and his ultranationalist allies to build momentum against Arab goals is drawing attention to domestic discrimination in Israel. On Wednesday, the parliament gave preliminary approval to a third piece of legislation that makes it an offense to negate Israel's Jewish character.
---