N. Korea's nuclear defiance may embolden Iran, Israelis worry
US Defense Secretary Robert Gates promised Saturday that the US will not 'stand idly by,' but the communist nation's example could be a case study in how to side-step diplomacy.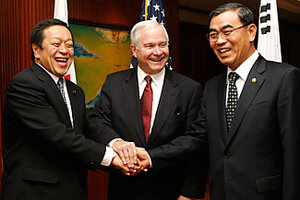 Wong Maye-E/AP
As the US and Asian neighbors of North Korea mull a united response to block the communist nation's nuclear program following a recent test, Israel is bracing for the fallout.
The chief concern is that Pyongyang's defiance of the international community will serve as a case-study for how Iran also might side-step diplomacy, acquire nuclear weapons, and fuel a regional arms race. If North Korea can get away with becoming a nuclear nation with little punishment and despite US diplomatic efforts, Israeli analysts say that may embolden Iran to flout international pressure, too.
"If the Americans can't show credibility on North Korea, then they won't be able to go far. It's a thermometer," says Gerald Steinberg, a political science professor at Bar Ilan University. "The US has been threatening to take action against North Korea since the 1990s and the North Korea has been able to buy time. The Israeli concern is that's exactly what will happen with Iran."
Israeli experts believe that it should have been easier to apply a mix of diplomatic and military pressure on North Korea than Iran because of its comparative geographic, economic, and political isolation.
---