UN: Israeli buffer zone eats up 30 percent of Gaza's arable land
Looking to increase security, Israel dropped leaflets last week warning residents to stay at least 1,000 feet from the border or risk being shot.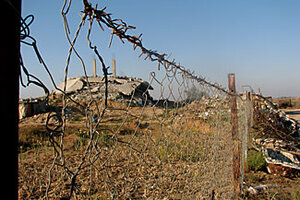 Erin Cunningham
Israel's warning came from the sky, as it often does in the Gaza Strip. But this time warplanes dropped neither bombs nor missiles on the impoverished Palestinian territory, but thousands of tiny leaflets warning Gaza's residents to keep away from the 30-mile-long border they share with Israel.
Stay at least 300 meters (1,000 feet) from the border, the May 25 pamphlets advised Palestinians, or risk being shot by Israeli Defense Forces (IDF).
Once a plush scene of rolling olive, citrus, and pomegranate groves, much of the border region is now just a barren landscape, marked only by the presence of IDF tanks, military watchtowers, and the occasional pop of gunfire.
Farmers and their families have been displaced, too afraid to return to their fields, while international humanitarian organizations are unable to make an assessment of the needs and damages of the area in the aftermath of the assault.
"We haven't been able to visit this area. No organization has," says Mohammed al-Shattali, project manager for the United Nations Food and Agricultural Organization (FAO) in the Gaza Strip.
"The war increased the amount of land destroyed, particularly in the border areas, and the farmers can't replant anything because it's too dangerous," he says. "The Israeli soldiers, they shoot at everything – dogs, sheep. They are very tense."
An Israeli-imposed buffer zone in the already narrow enclave was established more than a decade ago to thwart attacks by Palestinian militants, who use the border areas to launch homemade rockets at Israeli towns or dig tunnels to carry out attacks against IDF troops stationed at the border.
---