Obama visits Saudi Arabia, Cairo – why not Israel?
Many Israelis see the president's decision to bypass Jerusalem as part of a broader shift in US priorities in the region.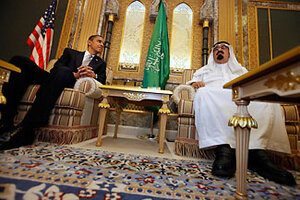 Gerald Herbert/AP
On the eve of President Obama's historic visit to Cairo Thursday, where he will deliver a major speech that is expected to include his outlines for Middle East peace, many here are noticing signals of a shift in the relationship between Jerusalem and Washington.
Obama, who was in Saudi Arabia on Wednesday and will speak in Egypt on Thursday, will not come to Israel as part of the trip. While there has been no official Israeli comment on this choice of itinerary, some observers see it as a symbol of how much has changed between Obama and the past few administrations, both under Republican George W. Bush and his predecessor, Democrat Bill Clinton.
"What we sense is a shift here in his entire approach to the Middle East. But from the get-go he's been raising the status of America's relationship with the Muslim world, and there's a suggestion that this might translate into additional pressure on Israel," says Dr. Michael Widlanski, a research fellow at the right-leaning Shalem Center in Jerusalem. "This is perceived as a sign to the Arab and Muslim community that the US administration is more interested in their feelings than before, and Obama is clearly trying to redress the situation where he felt the Bush administration has alienated part of the Islamic world."
---