In Iran, Ahmadinejad opponent sees surge of enthusiasm
Days before June 12 vote, Mir Hossein Mousavi gets 'savoir's' welcome in a former presidential stronghold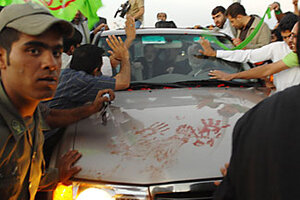 Scott Peterson/Getty Images
Etched into the desert at the base of dun-colored crags, Birjand was once a stronghold of Iranian President Mahmoud Ahmadinejad.
Voters in 2005 favored the firebrand in higher percentages here than in any other city. Mr. Ahmadinejad returned the favor by making Birjand his first stop as president, lavishing the underdeveloped area, 800 miles southeast of Tehran, with projects and cash.
So no one would have been more surprised than the president himself to see the exuberant welcome given to his main challenger, Mir Hossein Mousavi, just one week before Iran's June 12 presidential election.
A raucous welcome
Mobbed from the moment he stepped out of the airport terminal on Friday night, Mr. Mousavi's supporters cast him in the role of savior-in-chief.
Two cows and a number of sheep were slaughtered to honor the former prime minister, and bloody handprints slapped onto the hood of his silver SUV, to offer a traditional form of protection.
When Mousavi stood up through the sunroof, Iranians lunged forward to touch his outstretched hands, or held up babies in search of a blessing as the motorcade passed. Smiling wanly, the reform-leaning candidate basked in what analysts say is a fresh surge.
Acolytes of the uncharismatic Mousavi call it a "green wave," after the color of the campaign, and they compare it to the level of electoral excitement that swept reformist Mohammed Khatami to a surprise landslide in 1997.
---