In Mideast and Europe, Obama debuts 'global populism'
The American president took his case straight to the people on his trip this week, spending limited time with the leaders of Saudi Arabia, Egypt, Germany, and France.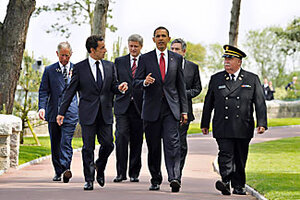 Eric Feferberg/Reuters
Over three days in the Middle East and Europe, President Obama began an ambitious recasting of politics and global perceptions – taking his case for a new beginning directly to the world's people.
The American president started with a nuanced bid for US-Muslim understanding and Mideast peace at the storied Cairo University – and ended in front of a soaring statue at the American cemetery at Omaha beach in Normandy titled, "The Spirit of American Youth, Rising from the Waves."
The trip, unusual in its limited time with state leaders in Saudi Arabia, Egypt, Germany, and France – was a sweeping bid for the possibility of progress in long-intractable conflicts and standoffs, and a recasting of America's role in that effort. It was an appeal to reason, history, values, remembrance, and common aspirations of humanity, in a populist fashion rarely seen on the world stage, say diplomats and specialists.
"Obama is going over the heads of elites, attempting to establish moral legitimacy as a leader, turning popularity into policy," says Charles Kupchan of the Council on Foreign Relations in Washington. "What we are seeing is not spin, but a sincere effort to reach out to hearts and minds, appealing to better instincts, to the reasonable nature of others. It is a revolutionary approach."
---