Lebanese election a blow to Hezbollah
The Western-backed March 14 coalition won an unexpectedly large parliamentary majority – 71 of 128 seats – over the opposition, led by the Iranian-backed militant group.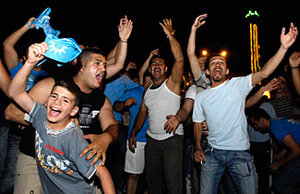 Hussam Shbaro/Reuters
Lebanon's Western-backed March 14 coalition has defeated a stiff challenge by the Hezbollah-led opposition in national elections to retain its parliamentary majority.
The March 14 bloc's win will reassure its supporters in Washington and Saudi Arabia, while the opposition defeat is a blow for Iran and Syria, which support Hezbollah and were hoping to counter US influence in Lebanon.
But protracted negotiations over the composition of a new national unity government could spark a fresh political crisis between the two rival camps.
A key sticking point is what should be done with Hezbollah's weapons – a question that has been at the crux of the political schism in Lebanon since the devastating month-long war with Israel in 2006. "It depends how smart March 14 plays it," says Ousama Safa, director of the Lebanese Center for Policy Studies in Beirut. "The election result has ripped many cards from Hezbollah ... but if March 14 has learned anything, it would be a major mistake to go after Hezbollah's weapons head-on."
---