Can Mitchell, now in Israel, calm settlement dispute?
Prime Minister Benjamin Netanyahu's administration is pushing back against increased US pressure to halt the growth of Jewish communities in the West Bank.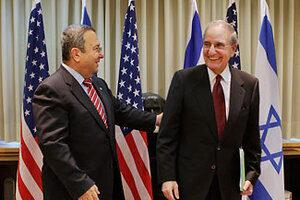 Ariel Schalit, Pool/AP
US special envoy George Mitchell arrived here Tuesday, poised to fast-forward President Barack Obama's plan for change in the Middle East. But due to Israeli resistance to a key facet of that plan – freezing West Bank settlement growth – Mr. Mitchell's trip is looking likely to be a diplomatic marathon, requiring the patient persistence he cultivated in Northern Ireland.
Prime Minister Benjamin Netanyahu is loath to implement a settlement freeze, and many in his right-wing constituency support settlements or live in them, including Foreign Minister Avigdor Lieberman.
Adding to the controversy, Mr. Netanyahu's interior minister, Eli Yishai, has vowed to reverse official "discrimination" against the 120-odd settlements and to allocate his ministry's reserve funds to their benefit, according a Monday report in the Haaretz newspaper.
"[Mr. Yishai] will do everything he can do to help the growth of communities in Judea and Samaria," says Roei Lachmanovich, Yishai's adviser, using the biblical names for part of the West Bank. Mr. Lachmanovich confirmed the Haaretz report as accurate.
---