Election: Iran's decision to oust Ahmadinejad – or not
Voters flocked to the polls to weigh in on the country's faltering economy and aggressive foreign policy.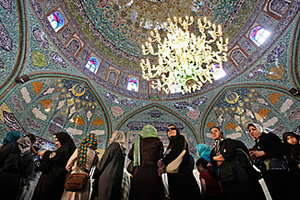 Ben Curtis/AP
Iranians poured into polling stations in a key presidential election on Friday, transforming the electricity of a tumultuous campaign and street demonstrations into a near-record turnout.
This election, in which President Mahmoud Ahmadinejad's main opponent surged in the final days, is being seen as a referendum on how the government is handling its faltering economy and aggressive foreign policy. Iran's decision to oust Mr. Ahmadinejad – or not – will shape the Islamic Republic's response to US President Obama's recent overtures and key issues such as Iran's nuclear program.
"This is very important for us, because we want to choose our own candidate – so we can choose our own destiny," said Babak, an electrician in south Tehran, as he made his way to his local mosque to vote. "This is the first time that the campaign was marvelous. It was infinity!"
Top challenger Mir Hossein Mousavi, he said, "will win 100 percent."
But just to be sure, many Mousavi supporters carried their own pens to the polls, after rumors circulated by text message that operatives of hard-line Ahmadinejad had imported 2 million pens with disappearing ink – so that votes for his opponents would be invalid.
A flicker of a counterrumor held that it was in fact the opposition camp – whose champion, Mr. Mousavi, has drawn the most support on the streets, and whose green-clad supporters predict victory over the incumbent – that had sneaked in such pens.
---