Netanyahu says Israel ready for a Palestinian state – with conditions
But a future Palestine must be 'demilitarized,' and the Jewish settlements won't be halted, Israel's leader says.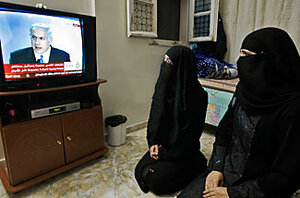 Nasser Ishtayeh/AP
Israeli Prime Minister Benjamin Netanyahu said for the first time that he would agree to the creation of a Palestinian state, but conditioned that on a US guarantee that the state be demilitarized and that the Palestinians recognize Israel as the state of the Jewish people.
"I told President Obama in Washington that if we can agree on the substance, the terminology won't constitute a problem," Netanyahu said in what was billed as a seminal foreign policy speech.
"If we get this guarantee for the demilitarization and the necessary security arrangements for Israel, and if the Palestinians recognize Israel as the state of the Jewish people, we will be ready for a real peace arrangement to reach a solution of a demilitarized Palestinian state alongside the Jewish state."
The speech, delivered at Bar Ilan University just outside of Tel Aviv, was an attempt to better harmonize Mr. Netanyahu's foreign policy with Mr. Obama's twin calls for the creation of a Palestinian state alongside Israel and for a freeze in settlement activity.
Biggest US-Israel rift in decades?
Netanyahu's reluctance until now to agree to either of the points has prompted the most public diplomatic rift between Israel and the US in nearly two decades. The Israeli prime minister reiterated his rejection of Obama's call for a halt in settlement activity, reflecting his need to mollify right-wing ideologues in his coalition who reject any form of territorial compromise.
---