Ahmadinejad hails controversial victory, despite protests
Street clashes between security forces and supporters of challenger Mousavi picked up after dark on Sunday after President Ahmadinejad addressed thousands of his supporters in Tehran.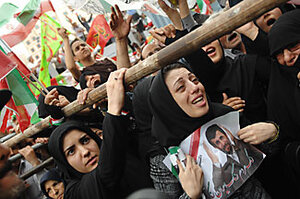 Scott Peterson / Getty Images
President Mahmoud Ahmadinejad began to consolidate his controversial reelection victory on Sunday, as violent protests wracked Tehran for a second day and the defeated challenger called for results to be annulled.
As street clashes picked up after dark between riot police and supporters of Mir Hussein Mousavi – the former prime minister who won just half the votes of Ahmadinejad, according to official figures – a new protest began to gather pace.
Iranians from the street – and then an increasing number from the windows and rooftops of their apartment buildings – shouted "God is Great!" and "Death to the dictator!" long into the night.
That protest signified the depth of anger over the surprise election result. The same tactic was used in Iran 30 years ago to show popular displeasure with the pro-West Shah Reza Pahlavi before he was overthrown by the 1979 Islamic Revolution.
"It's all spontaneous, and that's a negative, [because] all things without a leader will go down," said a veteran analyst after a walk on the streets. Mr. Mousavi has not appeared in public since voting day on Friday, though in a Web statement on Sunday he said: "I urge you, Iranian nation, to continue your nationwide protests in a peaceful and legal way."
Regime moves quickly to quell unrest
---