Why was top US general late for his own press conference? Iraqi security.
An Iraqi government spokesman's opening line was meant comically, but rang true. The country's military leaders and officials are increasingly emphasizing Iraqi independence.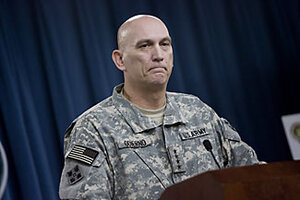 Evan Vucci/AP
Two weeks before Iraqi security forces take full control of the cities, the most telling comment in a major press conference by Gen. Ray Odierno and senior Iraqi officials Monday was the joke that preceded the event.
"We apologize for being late – the American general needed permission to enter the building," government spokesman Ali al-Dabbagh told reporters who had waited for two hours at the prime ministry complex.
As the June 30 deadline approaches for US combat troops to be out of the cities, Iraqi military leaders, officials, and ordinary security people have been increasingly emphasizing Iraqi independence in ways large and small. The perimeter of Baghdad's Green Zone is now under Iraqi control, and Iraqi forces recently exercised for the first time their right to detain US contractors accused of crimes here.
At Monday's press conference, Mr. Dabbagh – along with the Iraqi defense minister and interior minister – hailed June 30 as a day that would go down in history along with the anniversary of the Iraqi revolution. The officials reiterated the ways in which Iraqis would see even less of a US military presence in their streets.
"There will be limited missions and limited movement for American forces," said Dabbagh. "There will be no combat missions unless requested by the government of Iraq."
---