What are Mousavi's options now?
Iran's supreme leader ordered the Guardian Council to investigate the candidate's claims of electoral fraud. But the council is headed by a cleric cut from the same cloth as President Ahmadinejad.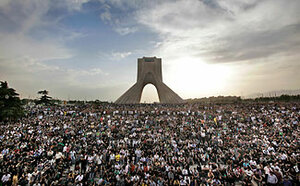 Ben Curtis/AP
Defying an explicit government ban to hold a rally, hundreds of thousands of Iranians stretching for miles across downtown Tehran marched to support Mir Hossein Mousavi, the moderate presidential candidate who says he is the rightful winner over incumbent Mahmoud Ahmadinejad.
Standing atop a car amid an ocean of his supporters – many of them wearing the green of the campaign – Mr.Mousavi shouted to the crowd: "God willing, we will take back our rights!"
Politically and procedurally, options are very limited for the Mousavi camp to challenge Mr. Ahmadinejad's declared 2-to-1 landslide victory in the Islamic Republic.
"They can't change anything. It's done," said a political analyst in Tehran who requested anonymity, given the current situation.
Ina bid to ease three days of street protests and violence in the capital and across the country, Iran's supreme religious leader Ayatollah Ali Khamenei on Sunday ordered the powerful Guardian Council to "carefully probe" allegations of fraud listed in a letter from Mousavi that called for results to be annulled because of fraud.
Although some Mousavi supporters might see hope in that action, experts in Tehran are skeptical that Mr. Khamenei would adjust a result. On Saturday – just a day after the vote, instead of the customary three – he sanctioned Ahmadinejad's victory, calling it a "divine assessment." [Editor's note: The original version misspelled Ayatollah Ali Khamenei's surname.]
Council chief cut from same cloth as Ahmadinejad
The powerful Guardian Council includes six clerics appointed by Khamenei, known as the supreme leader, and six jurists selected by the judiciary chief and confirmed by the parliament. Its head is Ayatollah Ahmad Jannati, a hard-line cleric cut from the same archconservative cloth as Ahmadinejad.
---