Netanyahu's two-state solution: You recognize us, we'll recognize you.
Some see the Israeli prime minister's demand that Arabs recognize Israel as a Jewish state as a simple quid pro quo, but critics say it's a new obstacle.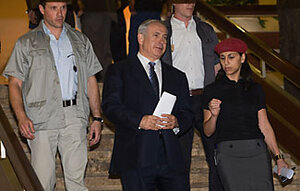 Dan Balilty/AP
Prime Minister Benjamin Netanyahu broke new ground with his speech Sunday. He voiced support for the first time for a Palestinian state. But he also attached a condition that no other Israeli leader has put on peace negotiations: Palestinians must recognize Israel as a Jewish state.
"A fundamental prerequisite for ending the conflict is a public, binding, and unequivocal Palestinian recognition of Israel as the nation state of the Jewish people," argued Mr. Netanyahu, who said the issue lies at the core of the Arab-Israeli conflict.Under pressure from the Obama administration to move forward with a two-state solution, the prime minister has complied. But in the process, say Palestinian and Israeli critics, the prime minister has created a new roadblock to Palestinian statehood.
"I think [Netanyahu] is just trying to create an obstacle. This is a new issue that was never on the table, and now he is raising it," says Mohammed Dejani, a political science professor at Al Quds University in Jerusalem. The demand reflects Israeli insecurity about Arab acceptance of their claims to Jewish sovereignty in the land of the Bible. It also suggests that the mutual recognition between Palestinians and Israelis established by the 1993 Oslo Accords is insufficient for the Israeli right, Netanyahu's core constituency. But some say it's a legitimate quid pro quo.
---