Yemen hostage killings: the work of Al Qaeda?
Yemeni officials pointed to Shiite rebels that have clashed with the government, but the operation is a marked departure from their style of hostage-taking.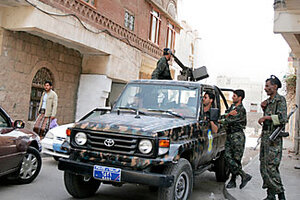 Mohammed al-Qadhi/AP
As many as nine foreign hostages, including Germans, a Briton, and a South Korean, have been found dead in the volatile region of Saada in northern Yemen today, according to news agency reports.
Yemeni authorities have accused a Shiite rebel group active in Saada, frequently referred to as the Houthis, of the kidnapping and murders. However, analysts say the incident isn't in line with typical Houthi hostage-taking, when foreigners are normally released unharmed. They instead point to Al Qaeda.
"Several members of the Yemeni government have accused rogue cells of the Houthis of carrying this out, but that scenario doesn't seem that likely," says Gregory Johnsen of Princeton University, editor of the forthcoming book "Islam and Insurgency in Yemen." "I think that it's difficult to know at this early point.... If the Houthis did indeed carry this out, it would be a significant departure from their style of hostage-taking. I think that a lot of people are looking at this as it may have been something Al Qaeda has carried out."
Three of the hostages, two German women and one South Korean woman, were confirmed dead in a press release by the Yemeni Embassy in Washington. The fate of the remaining six was not immediately known.
The German Embassy in Sanaa has refused to comment on the issue.
The victims worked for a Dutch international relief organization in war-torn Saada, according to a Yemeni official.
Al Qaeda strengthening in Yemen
---