Why Israel and Hamas are meeting with Jimmy Carter
The former president met with Israeli settlers as well as top Hamas leaders on a week-long tour of the region that wrapped up Tuesday in Gaza.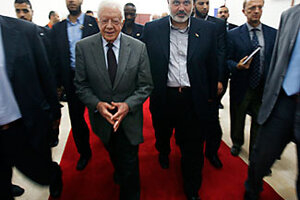 Suhaib Salem/Reuters
Amid softened tensions between Israel and the US after Prime Minister Benjamin Netanyahu's speech on Sunday, a familiar face is edging his way into the melee: Jimmy Carter. On Tuesday, the former president capped a week-long tour of the Middle East by meeting senior Hamas leader Ismail Haniyeh in the Gaza Strip.
Mr. Carter has been shunned in the past by both the Bush administration and Israeli leaders, who criticized his efforts to engage the militant Palestinian group that he says is crucial to any lasting Arab-Israeli peace. But analysts say Carter's ties with the more like-minded Obama administration, which has taken a firmer stand with Israel on some issues, may bolster his effectiveness as a regional peace broker.
"There is a big difference between Carter operating under Bush [and] Carter operating under Obama," says Alon Liel, a former Israeli Foreign Ministry director general. "His efforts had little value during the eight years of the Republicans. They have greater value now. He has access and connections with the leaders of [the] new America."
---