Day 5 of Iran protests: Where do we stand?
As tens of thousands marched in Tehran Wednesday, the government moved to recount ballots and crack down on bloggers and news websites.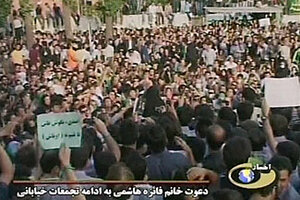 IRIB/AP
Even as the Iranian government clamped down harder on dissent, defeated presidential candidate Mir Hossein Mousavi urged his followers on Wednesday to protest en masse again.
Already, tens of thousands have begun to gather in Tehran's Haft-e Tir Square and march silently through the streets.
"We want a peaceful rally to protest the unhealthy trend of the election and realize our goal of annulling the results," said Mr. Mousavi, who has rejected as insufficient Ayatollah Ali Khamenei's move the day before to recount votes in certain contested areas.
And Mousavi is keeping the pressure on: He called for a day of mourning on Thursday.
Though considering a recount, just days after Ayatollah Khamenei called President Mahmoud Ahmadinejad's reelection "divine," the regime on Tuesday barred foreign journalists from leaving their offices and arrested prominent reformists.
Here is a rundown of what's happening on various fronts, as reported by different outlets. Click on the news source's name to see the full article.
Crackdown on dissidents
"Iran was braced for a fifth day of unrest today as the government intensified its crackdown on opposition figures with the arrest of dozens of leading critics and issued a further warning against reporting of the protest movement," reported the Guardian in London.
---