A new base? Al Qaeda rises in Yemen.
Suspected in the kidnapping of nine foreigners last week, the militant group appears to be gaining momentum – thanks in part to weak central government.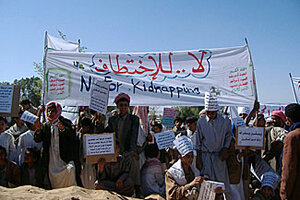 Reuters
The recent kidnapping of nine foreign aid workers in Yemen, three of whom were reported killed Monday, has heightened attention on the activities here of Al Qaeda – which some analysts blame for the attack.
The group appears to be using Yemen's factionalism to gain momentum in the country, one of the poorest in the Arab world.
A separatist movement in the south and an unrelenting rebel group in the north have left Yemen's central government with little control reaching beyond the capital of Sanaa. That makes the country an ideal place for Al Qaeda in the Arabian Peninsula (AQAP) – the regional branch of the international movement – to gain popularity among those disenfranchised by the government.
"It is natural when there are extremists in a country for them to use instability of the country their advantage," says Mohammed Haidar, a researcher at the Sheba Center for Strategic Studies in Sanaa, the Yemeni capital. "Many of the issues Yemen faces are because of its economic problems. The government couldn't develop after unification [of northern and southern Yemen in 1990]. This created a poor class of people ready to join any extremist group."
---