Can Iran's top clerics defuse the crisis?
Ayatollah Khamenei to address huge prayer service Friday. Guardian Council meets Saturday to discuss election problems.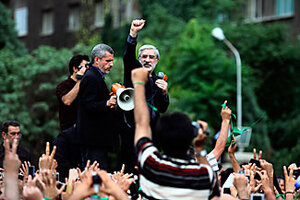 Demotix/Reuters
Iran's top clerical leadership is taking steps to defuse six days of crisis and violence, as Iranians challenging the reelection of President Mahmoud Ahmadinejad took to the streets again on Thursday.
Iran's supreme religious leader Ayatollah Sayed Ali Khamenei is due to lead Friday prayers in Tehran – at which conservative factions have vowed a large turnout – and he is expected to deliver a message of unity.
The powerful Guardian Council is to meet on Saturday with all three defeated candidates. The council is examining 646 opposition complaints, and has said it will consider a partial recount.
But the 12 clerics on the Council have all but ruled out a full recount, never mind a re-run of the election, as demanded by defeated top contender Mir Hossein Mousavi – and the hundreds of thousands of Iranians who have rallied for him on the streets this week.
Wearing black to mourn the death of protesters this week, and green to mark support for Mr. Mousavi, a "sea of people" streamed across a bridge for three hours Thursday according to a participant quoted by the Associated Press. "One old man [was] talking about how the will of the people has started and no one can stop it."
The few foreign journalists still in Iran are under severe restrictions that prevent them from covering any rally or reporting in the street without government approval.
A political "Twilight Zone"
Analysts say there is no easy way out of the crisis, since Ayatollah Khamenei quickly approved Ahmadinejad's victory as a "divine assessment." But the wrath of Iranians behind Mousavi who feel their vote was stolen has only grown in the meantime.
---