Iran's Khamenei throws down hard line with protesters
On Friday, the supreme leader raised the stakes by giving Ahmadinejad full support and insisting that there was no fraud in the election.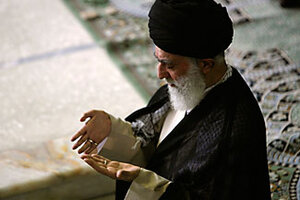 Morteza Nikoubazl/Reuters
Iran's supreme religious leader threw his weight behind the disputed landslide victory of President Mahmoud Ahmadinejad on Friday, calling the vote "God's blessing," ruling out any fraud, and ordering an end to massive street protests.
In what may prove a pivotal point in the post-election crisis that has shaken Iran for nearly a week, Ayatollah Sayed Ali Khamenei took an uncompromising stand at Friday prayers.
"If there is any bloodshed, leaders of the protests will be held directly responsible," declared Ayatollah Khomeini, speaking to an overflowing crowd of tens of thousands at Tehran University that was bolstered by a large contingent of basiji ideological militiamen.
Defeated candidate Mir Hossein Mousavi has brought hundreds of thousands of Iranians onto the streets for peaceful protest in recent days, harnessing public outrage that first burst into riots and clashes when results were announced last Saturday.
Another march is slated for this Saturday, though it has already been declared illegal by authorities – as have each of the previous rallies. But now all future marches will be higher stakes and held in direct defiance of Iran's most powerful authority.
---