Iraq pullout: Some US soldiers likely to stay behind in Mosul
As US prepares to withdraw troops from major cities, bombings in Baghdad and near Kirkuk have the country on edge.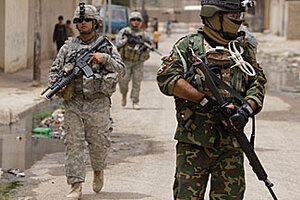 Saad Shalash/Reuters
American soldiers who had been expected to withdraw from their bases within Mosul by the June 30 deadline might be allowed to stay under an agreement being finalized with the Iraqi government, United States officials say.
"We're waiting for a final decision, and we're prepared to execute whatever they tell us to execute," says Col. Gary Volesky, commander of the 1st Cavalry Division's 3rd Heavy Brigade Combat Team.
Although levels of violence have declined dramatically in the past year, attacks have escalated ahead of next week's withdrawal of US troops from major cities here. Dozens were killed after a massive attack Saturday near Kirkuk. On Monday, a series of bombings killed at least 13 people in the Baghdad area.
Despite the attacks, the movement of US forces out of the cities continues. Colonel Volesky, in charge of US forces in the volatile city of Mosul, said his brigade had just turned over to Iraqi forces two of its biggest remaining combat outposts and was waiting to see whether it would be instructed to do the same with the others within the city.
"We just turned in two of the eight that we have so we're on a glide path – we've got plans to shut them all if required," he says.
"Broad agreement has been reached on the post-coalition presence in the city," says another US official who asked to remain anonymous because Iraqi authorities have not yet announced the pact.
---