Yemen's fishermen caught between Somali pirates and pirate hunters
Attacks by both Somali pirates and international ships hunting them have crippled Yemen's fishing business, the tiny country's second-largest export industry after oil.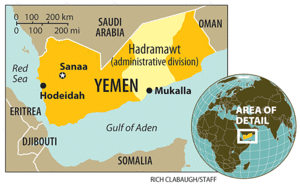 Rich Clabaugh/Staff
As piracy continues off the coast of Somalia, fishermen from the nearby nation of Yemen find themselves caught in the crossfire between the lawless pirates and the foreign powers patrolling the Gulf of Aden.
"For our fishermen, piracy has become a daily problem," says Omar Gambeet, chairman of the Fishermen Cooperative Union (FCC) based in the southern Yemeni port city Mukalla, a center for fishing in the country. "This problem has worried Yemeni fishermen, and they are too scared from going into the deep sea to fish."
Armed pirates have taken over the boats of Yemeni fishermen in the Indian Ocean and Gulf of Aden and used them as human shields while carrying out attacks on international shipping vessels. The pirates also use Yemenis' large dhows as storage facilities for their weapon supplies.
The Yemeni fishermen also have come under attack from international coalition forces off Yemen's coast either as collateral damage in the war against piracy or because international navies have mistaken the Yemenis for Somali pirates.
---