Arab countries: Is Iran's unrest an opportunity or a threat?
If the mass protests in Iran succeed in bringing about change, it could produce a better neighbor – but also set a dangerous precedent for oppressive regimes.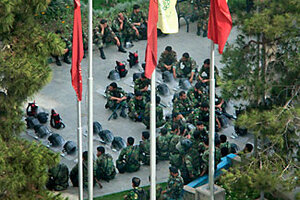 Hamed/ Demotix Images/ AP
Iran's Sunni Arab neighbors have long feared its revolutionary rhetoric, its Islamist political style, and its popularity among many of their own citizens for its strident criticism of Israel.
With that background, one would expect the Arab states to be jumping for joy at the political turmoil in Iran, a Shiite oil power.
But so far their response has been muted to non-existent.
Here's why: The mechanism that has created Iran's biggest political crisis since the Islamic revolution in 1979 is street power, the voice of a disenfranchised populace. And while that might eventually deliver a regime in Iran that Arab states would be more comfortable with, it also provides a powerful immediate example of the sort of popular sovereignty that the autocratic Arab regimes fear most.
"I think that most of these governments would be concerned about the images of popular demonstrations against the government because it, in a way, reminds them of their own vulnerability," says political scientist Thomas Mattair, author of the recent book "Global Security Watch: Iran." "Whereas for the Arab public it would be encouraging."
Indeed, it's something of a "Tehran Spring," says Nabil Abdel Fattah at Ahram Center for Political and Strategic Studies, a government-linked think tank in Cairo. "Egypt, Saudi Arabia, and other authoritarian regimes fear the effects of what is going on in Iran," particularly since the methods of the protestors are easily replicable, he says. "Shouting 'Allahu akbar' [God is great] from the roof is something people all over the Middle East can do."
---
Follow Stories Like This
Get the Monitor stories you care about delivered to your inbox.