US forces withdrawing from Iraqi cities will move instead to encircle them
The troops will form 'belts' around volatile cities like Mosul, where some fear gains in stability will be lost when US troops pull out on June 30.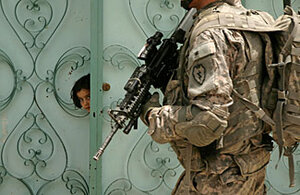 Saad Shalash/REUTERS
The commanding general in charge of US forces in the north says American combat troops pulling out of Iraq's most volatile cities are being shifted to areas encircling the cities to try to stop what has proved to be a resilient Al Qaeda in Iraq and other insurgent groups.
Maj, Gen. Robert Caslen, commander of the 25th Infantry Division, says in an interview that he is watching closely to see whether a recent spike in attacks will continue after the June 30 deadline for US combat troops to withdraw from Iraqi cities.
The deadliest attack in more than a year damaged a Shiite mosque and leveled an entire block of houses near Kirkuk last Saturday, killing more than 80 people and wounding more than 250 others.
No one has claimed responsibility, but General Caslen says the truck bombing, which used 15,000 pounds of explosives, was believed to have been carried out by Al Qaeda in Iraq (AQI). A huge bomb in Baghdad's Shiite neighborhood of Sadr City Wednesday killed at least 75 people and wounded almost 200 more in what officials have warned would be an increase in violence around the June 30 pullout.
---