In two Israeli settlements, a booming demand for more space
With women having an average of eight children each, the ultra-Orthodox communities of Beiter Illit and Modiin Illit are case studies in why the settlement issue is not getting any easier.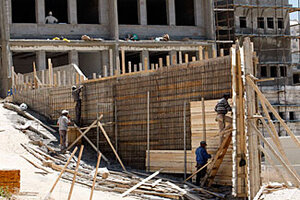 Gil Cohen Magen/REUTERS
A stack of moving boxes packed with religious books is tucked into the corner of Yossi and Racheli Zehnwirth's apartment salon.
Three years ago, the couple arrived as newlyweds in this devoutly religious settlement – the second largest in the West Bank – with the hopes of buying their own home, a goal beyond reach 15 minutes away in Jerusalem.
Now, with two young boys, the family is moving to a rental half the size of their current apartment because they can't keep up with property values buoyed by high birthrates among ultra-Orthodox Jews and the demand from newcomers escaping overcrowded cities.
"Here we ride in bullet-proof buses for the price," says Mr. Zehnwirth. "Now we don't even have the [low] price any more."
As the Obama administration pushes for a total West Bank settlement freeze and Israel insists on allowing continued expansion inside existing settlements, Beitar and a second ultra-religious city, Modiin Illit, illustrate the roots of the dispute over Israeli development on land claimed by the Palestinians for a future state.
Planned by the Israeli government as a housing solution for religious sects with high birthrates and a preference for living in cloistered neighborhoods, building in the two settlements took off after the Oslo peace process began in 1993. Runaway growth has made the two cities account for one-fourth of the 300,000 Israelis spread over more than 100 settlements in the West Bank, not including Israeli neighborhoods of East Jerusalem.
---