Can Lebanon's Hariri work with Hezbollah?
A Monitor reporter sits down with Prime Minister-designate Saad Hariri in his mansion as he discusses the legacy of his father and a fresh push for reconciliation.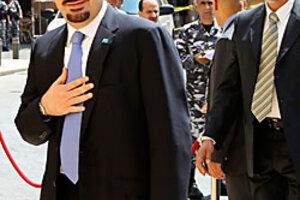 Mohamed Azakir/Reuters
A deadly street clash between rival political groups this weekend – the worst factional violence in the Lebanese capital in over a year – underlines the challenges lying ahead for Saad Hariri, Lebanon's top Sunni politician, who has been appointed Lebanon's next prime minister.
One woman was killed and several other people wounded, including a Lebanese soldier, Sunday night when rival Shiite and Sunni partisans traded gunfire in the Aisha Bakkar district of west Beirut.
The outbreak of violence was a reminder of the lingering tensions that exist in Lebanon, even though the country's political leaders have made efforts lately to achieve reconciliation.
Mr. Hariri was selected on Saturday by Lebanese President Michel Suleiman to become prime minister, three weeks after the US- and Saudi-backed March 14 coalition narrowly won a parliamentary election, defeating the opposition, led by the militant Shiite group, Hezbollah.
We "will safeguard the constitution, [state] institutions, sovereignty, independence, and the project of building the Lebanese state," Hariri said after meeting Mr. Suleiman at the presidential palace.
Political heir
---