After a lull, protests revive in Iran
Witnesses describe the unauthorized rally in Tehran Sunday that was ultimately broken up by police and militia.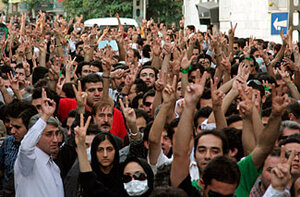 Demotix/REUTERS
Iranian protesters continue to challenge disputed election results, even as their numbers dwindle in the face of a widespread crackdown by security forces and their leader remains out of sight.
Several thousand Iranians held an unauthorized rally on Sunday to challenge the reelection of President Mahmoud Ahmadinejad, using an annual commemoration day – for a 1981 bombing that killed more than 70 of Iran's top revolutionary leaders – as an excuse to gather.
The protests were broken up by police wielding batons and firing tear gas. One witness told the Monitor that the demonstrators included conservative and older women dressed all in black chadors – who were among the most abusive in their anger toward the basiji militiamen.
"Savages!" shouted one woman. "How can an Iranian strike his Iranian brothers and sisters?"
"They've disgraced the regime," said another older woman, according to this witness, who spoke on condition of anonymity due to security concerns. "Did we have a revolution so they could spill our children's blood?"
Mousavi out of the public eye
Defeated candidate Mir Hossein Mousavi has not been seen in public for more than a week. He addressed the rally near Tehran's Ghoba mosque by a mobile phone, which supporters held up to a megaphone.
---