UN probe into Gaza conflict
Israelis and Palestinians question the credibility and effectiveness of 'unprecedented' public hearings about last January's attacks.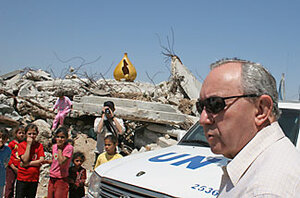 Ashraf Amra/ AP/ File
In a tearful and gruesome testimony, Salah Al-Samouni spoke of the two days of Israeli helicopter attacks in the Zaytoun area of Gaza that claimed 29 members of his family on Jan. 5 and 6.
"They hit us, they hit us with Apaches," Mr. Samouni told United Nations war crimes investigators in Gaza City on Sunday. "I found my 2-year-old daughter, she was dead.... Why?"
Six months after Israel's winter military offensive that left over 1,400 Palestinians and 13 Israelis dead (10 soldiers and three civilians), the UN is holding unprecedented public hearings in Gaza City and Geneva this week into allegations that war crimes were carried out during the conflict.
Led by South African judge Richard Goldstone, himself of Jewish descent, the fact-finding mission has a mandate to investigate all suspected violations of international law, including those carried out by Hamas and other Palestinian militants throughout the conflict.
A 15-member UN team came to Gaza earlier this month to speak with victims and survey the destruction.
Despite the mission's scope, however, serious doubts exist about its ability to yield prosecutions or produce a sense of justice for either side.
---