Iraqis celebrate US troops' pullback
Amid a huge display of national pride, some expressed concerns that violence could spike again.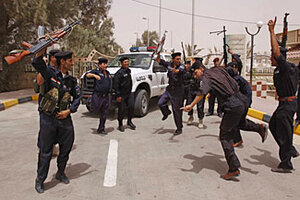 Nabil al-Jurani/AP
Iraqis celebrated taking back full control of their streets on Tuesday, putting on a huge display of national pride mixed with worry over the prospect of violence reigniting while US forces keep their distance.
Near the Tomb of the Unknown Soldier in Baghdad, the best of Iraq's defense forces – soldiers, police, special forces officers, and even sailors and airmen – paraded past the Iraqi prime minister and defense minister in a reviewing stand.
American and Romanian tanks, armored vehicles, humvees, and firetrucks rolled past an audience of dignitaries that included US Gen. Ray Odierno, whose combat forces have now pulled out of Iraqi cities under a landmark security agreement.
In the background, the crossed swords of Saddam Hussein's monument to the Iran-Iraq war – modeled after his own fists – rose over the parade ground.
It was a far cry from the massive parades highlighting dozens of tanks and missiles that the late Iraqi leader presided over before he was toppled in 2003 – but much more heartfelt.
Behind the monument, as units of Iraqi forces grouped near immaculate vehicles waited their turn to enter the grounds, there was a backstage atmosphere.
"This is the most beautiful day," said Iraqi special forces Capt. Mustafa Kamal, posing for photos with some of his men. He said he expected US forces to continue to help them with logistics, training, and other support, but that they were up to the challenges.
---