How Israel's naval blockade denies Gazans food, aid
A boat carrying foreign activists and three tons of medical supplies was rerouted Tuesday. Meanwhile, the fishing industry – a key source of jobs and protein – has been crippled.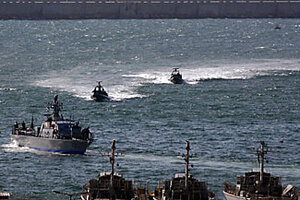 Amir Cohen/Reuters
Bringing fresh attention to its blockade of the Gaza Strip, Israel on Tuesday turned back a boat attempting to deliver three tons of medical supplies to Gazans.
After a radio message asking the small ferry to turn back was ignored, the Israeli Navy boarded the boat and redirected the vessel to the Israeli port of Ashdod. Reuters quoted a police source as saying that the activists aboard, members of the US-based Free Gaza movement, would "likely be deported."
"Yesterday evening the Israeli Navy contacted the boat while at sea clarifying that it would not be permitted to enter Gaza coastal waters because of security risks in the area, and the existing naval blockade," the Israeli military said in a statement, adding that humanitarian aid would be sent to Gaza "subject to authorization."
The naval blockade – part of a wider Israeli effort to seal off the tiny coastal strip controlled by the Islamist militant group Hamas – not only prevents such shipments, it is also devastating a key Gazan industry and source of food: fishing.
Citing security concerns and fears of arms smuggling, Israel has progressively tightened the blockade over the past 15 years. Once a thriving enterprise, Gaza's fishing industry is now on the verge of collapse. Fishermen are cut off from the heavily populated shoals, and have seen total revenue drop by half in less than a decade.
---