Iranians find new ways to keep protests alive
Twitter, Youtube, and the force of the movement for change in Iran make it difficult for the government to paint the protesters as tools of foreign powers.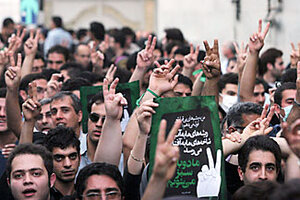 Reuters
The Iranian regime continued this weekend in its bid to paint citizens protesting the announced results of its June 12 presidential election as tools of outside powers.
In a scathing editorial published Saturday in the influential state-run newspaper, Kayhan, editor-in-chief Hossein Shariatmadari said opposition leader Mir Hossein Mousavi had committed "terrible crimes," including "murdering innocent people, holding riots, co-operating with foreigners, and acting as America's fifth column."
This comes on the heels of a leading Iranian cleric's call Friday for some Iranian employees of the British Embassy to be tried for allegedly inciting pro-democracy protests.
In spite of those efforts, however, the movement for change inside the country continues to make it very unlikely that the events of past few weeks will be remembered as the product of outside meddling.
Using social networking sites like Twitter and video sites like Youtube, protesters have compiled powerful evidence of a legitimate outpouring of anger. Raw videos like this one of a clash between demonstrators and police. And more polished ones like this compilation of protesters and the wounds they've received for their pains set to patriotic music.
But with at least 1,000 demonstrators now detained and the size of protests dramatically scaled down due to the repressive measures of the government, analysts say the many Iranians who believe that fraud swayed the presidential election in favor of Mahmoud Ahmadinejad will have to find new means to challenge the hard-liners in power.
---