Iran's seat of theocratic power
The role of the supreme leader has changed, but Iran's top cleric, Ayatollah Khamenei, still holds sway. How the political system in Tehran works, and who will determine what comes next.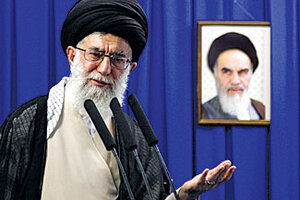 hyat news agency/AP
Iran's supreme leader Ayatollah Sayed Ali Khamenei warned Western leaders on Monday of "meddling" in his country's affairs.
"The leaders of arrogant countries, the nosy meddlers in the affairs of the Islamic republic, must know that no matter if the Iranian people have their own differences, when your enemies get involved, the people ... will become a firm fist against you," he said in a televised speech in Tehran.
His speech came on the heels of reports Sunday that the Iranian elite Revolutionary Guard publicly proclaimed its role in supressing the recent street demonstrations, and a group of proreform clerics on Sunday declared the June 12 elections "invalid." The statement was issued from Qom, Iran's center of Shiite scholarship, and is another sign of the power struggle within Iran's clerical establishment.
The following briefing looks at the power structure of Iran.
What is the supreme leader's role?
Ayatollah Ruhollah Khomeini, the ideological mastermind of the 1979 revolution that overthrew the secular Shah Mohammed Reza Pahlavi, saw the question of justice as central to Islam, and felt that the only just government was one strongly guided by a senior Shiite cleric.
This man is commonly known as the supreme leader. Ayatollah Khomeini was the first, and was succeeded upon his death by Ayatollah Sayed Ali Khamenei, now at the center of Iran's political maelstrom.
The supreme leader was given sweeping powers under Iran's 1979 Constitution. He appoints the heads of the armed forces, the people who run the country's sprawling religious foundations (giving him influence over where the riches generated by tithing are directed), and most of the religious authorities who, in theory, have oversight of his actions.
---