US, Israel looking for a way to resolve settlements dispute
In talks in London Monday, Israel's defense minister said the two sides had made progress, but still had 'a way to go.'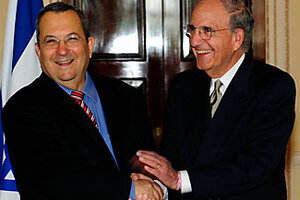 Toby Melville/Reuters
A new round of Israel-US talks in London failed to defuse the standoff over Jewish settlement expansion in the West Bank, though analysts and aides say the two sides are looking for a face-saving compromise for Israeli Prime Minister Benjamin Netanyahu to yield on continued growth.
After a three-hour meeting with Middle East Envoy George Mitchell, Israeli Defense Minister Ehud Barak reported progress but added, "there's still a way to go," Ha'aretz reported on its website.
Israel is open to a temporary settlement freeze, but is demanding a conciliatory gesture from the Palestinians or the Arab states so Mr. Netanyahu can deflect political criticism from supporters already upset at his recent endorsement of a Palestinian state. An advisor to Netanyahu said the settlement issue is secondary and both sides want to put the dispute behind them.
"Even if the matter of a temporary freeze comes up, it can't be a unique or an isolated issue," says Zalman Shoval, a former Israeli ambassador to the US and foreign policy aide to Netanyahu. "In every quid pro quo there has to be a quo. Israel will want to hear what we can expect from the other side."
A joint statement released after the meeting named the formula for promoting "regional peace" between Israel and its Arab neighbors: Israel must lift blockades in the West Bank and "act" to curb settlement activity, while the Palestinians must boost security and the Arab states move toward normalization of ties with Israel.
---