In dusty Turkish village, surfing the Web for brides
Turkey's rising status in the Arab world – along with the arrival of the Internet in this rural town – has helped men attract women from Morocco. Most are second wives.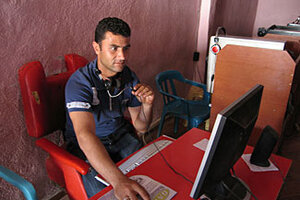 Yigal Schleifer
Since Hasip Yildirim opened his Internet cafe two years ago, the former truck driver has become something of a local matchmaker. Now that they have access to the Web, the men in this dusty rural village have started looking for wives online, where – thanks to Turkey's growing clout and visibility in the Middle East – they are suddenly seen as quite a catch by women in the region.
"Everyone's coming to the Internet cafe now to find a wife," says Mr. Yildirim, speaking inside his fluorescent-lit one-room outfit, which has some 20 computer terminals. "Sometimes, there's no space to sit down."
An intriguing example of modern technology put to use in the service of ancient tradition, Yildirim's virtual matchmaking business also has a somewhat unsavory twist: It's re-inforcing polygamy. Though officially outlawed in 1926, polygamy continues today in Turkey's impoverished and predominantly rural southeast.
In the past, the village's Arabic-speaking men used to hop across the border to find a second wife in Syria. But the arrival of the Internet in the village has changed that.
Locals have zeroed in on Morocco in particular, since its residents can come to Turkey without a visa. In the past year, some 10 Moroccan brides – all second wives, including one 45-year-old who married a man 30 years her senior – have come to Gokce. More than a dozen more are expected to arrive in the coming year.
---