Why US diplomats are visiting Israeli settlers
The Obama administration has made firm demands for Israel to halt all settlement expansion. But political officers are making trips to talk with settlers directly.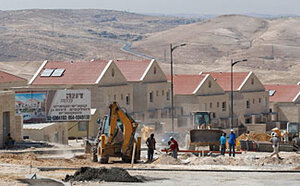 Dan Balilty/AP/FILE
While the Obama administration keeps up pressure on Israeli Prime Minister Benjamin Netanyahu to cap Jewish settlement expansion, locally based US diplomats are cultivating ties with the very communities they consider an obstacle to the creation of a Palestinian state.
Their findings, which are passed on to US officials and policymakers, are likely to become more valuable at a time when the US is publicly prodding Israel to stop settlement expansion for the first time in two decades – forcing Mr. Netanyahu into a balancing act between Israel's closest ally and one of his key constituencies.
"I don't think there's anyone in any other diplomatic missions or in the Israeli government that is solely focused on this issue. They had particularly good access," said a former United Nations diplomat who served in Jerusalem and declined to be named.
"It's a complicated terrain in the West Bank," he said in a phone interview. "While there's seemingly a lot of information out there, a lot of it is politically biased. It was always helpful to get straight information."
Opinions in the settlements are key
The US envoy appointed to monitor the implementation of the road map, Gen. Paul Selva, was scheduled to visit the region this week, according to the US diplomat.
---