Anger China or defend Uighurs? Turkey walks fine line.
Beijing urged Turkish Prime Minister Erdogan to retract his statement that China is committing "genocide" against its Muslim minority.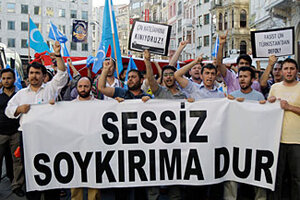 Ibrahim Usta/AP
Developments in China's restive Xinjiang Province and the attacks against the minority Muslim Uighurs there may not have led to vocal protests in most of the Muslim world. But in Turkey, the events in western China have led to large protests in the streets and strong words from Turkish officials.
The comment raising the loudest outcry has been Prime Minister Recep Tayyip Erdogan's accusation last week that China is committing "genocide" against the Uighurs, a statement that Beijing is now pressuring him to retract.
Experts say that taking its criticism of China too far could backfire on Ankara, which has been working to improve both its diplomatic and trade relations with Beijing.
An estimated 184 people have died in the recent violent clashes between Uighurs and ethnic Han Chinese in Urumqi, the capital of Xinjiang. Chinese officials have claimed that most of those killed have been Han.
Turkey's minister of industry and trade, Nihat Ergun, last week called for a boycott of Chinese goods, while Mr. Erdogan, speaking on television last Friday, said: "The incidents in China are, simply put, tantamount to genocide. There's no point in interpreting this otherwise."
---