Why Palestinian leaders have banned Al Jazeera
Ahead of a major Fatah leadership conference, the Arab TV network reported Tuesday that President Mahmoud Abbas had been involved in an assassination plot against his predecessor, Yasser Arafat.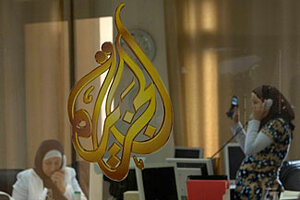 Fadi Arouri/REUTERS
The Palestinian Authority (PA) on Wednesday banned Al Jazeera television from operating in its territory and threatened to take legal action against the Qatar-based Arabic satellite channel because of allegations it made against President Mahmoud Abbas.
Al Jazeera ran an interview a day earlier in which Farouk Kaddoumi, a senior leader of the Palestine Liberation Organization (PLO), charged that Mr. Abbas conspired with Israel in 2003 to kill Palestinian leader Yasser Arafat. Mr. Arafat died in November 2004 after being sent abroad for medical treatment. No cause was disclosed, and Palestinian political circuits have since been rife with gossip over possible foul play.
Al Jazeera said it was "stunned" by the PA's action, noting that several other outlets had carried the story – based on a press conference called by Mr. Kaddoumi, who lives in Jordan.
"We firmly reject the accusations," Walid al-Omary, the channel's director in Ramallah, told Agence France-Presse. "We regret this decision, which harms the freedom of expression and the press in this country."
---