Netanyahu draws red line on settlement freeze
The Israeli prime minister airs a US demand to halt building in E. Jerusalem, where US bingo magnate's hotel is slated for conversion into 20 Jewish apartments.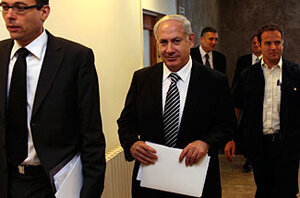 David Silverman/Reuters
Tensions between the United States and Israel over settlement expansion in the West Bank escalated this weekend over a tinderbox issue: Israeli building in East Jerusalem, a predominantly Arab area that Israel claims as part of its "undivided and eternal capital."
"I can only imagine what would happen if someone were to suggest that Jews cannot live in certain neighborhoods in New York or in London or in Paris or in Rome," Israeli Prime Minister Benjamin Netanyahu said on Sunday, responding to newly clarified US demands to freeze all new building. "There would undoubtedly be a loud international outcry. All the more so, we cannot agree to such a decree in Jerusalem."
---