Will Iran's political turmoil shake Hezbollah?
The Shiite militant organization in Lebanon draws money and ideological guidance from Iran's supreme leader.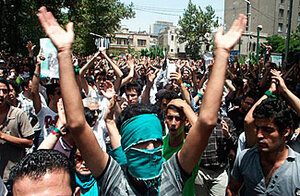 Farhad Rajabali/Gooya News/REUTERS
The political turmoil that has shaken Iran following its disputed presidential election last month is being keenly observed by Lebanon's militant Shiite Hezbollah, which takes many of its cues – earthly and spiritual – from the Islamic Republic.
Hezbollah is the only organization outside Iran that subscribes to that nation's ideology of theocratic leadership. The group was founded with Iranian help, still receives Iranian funding, and has at times turned to Iran's supreme leader for guidance on major political issues. Therefore, the outcome of current debates there over the way theocratic authority is wielded and the secular question of how Iran should manage its external relations is sure to reverberate inside Lebanon.
"Those who argue that this is only a disagreement between revolutionary elites are patently wrong," says Karim Sadjadpour, an Iran specialist at the Carnegie Endowment for International Peace. "Even ... a former senior Revolutionary Guard commander claimed that over 3 million people demonstrated in Tehran."
On Sunday, former Iranian President Mohammed Khatami called for a referendum on the current government's "legitimacy." Supreme Leader Ayatollah Ali Khamenei, the senior figure in the theocracy, vowed Monday that elites seeking change would be treated as "hated" people if they didn't back down. Analysts took that to mean some reformers could be treated as enemies of the state.
---
Follow Stories Like This
Get the Monitor stories you care about delivered to your inbox.