Israel's other Israel: the Tel Aviv 'bubble'
Far from suicide bombers and West Bank settlements, the cosmopolitan city is an economic engine – and out of step, some say.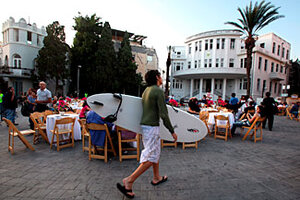 Jim Hollander/EPA
The Israeli relationship with this city is captured in a hit song about a 20-something who moves here from Jerusalem:
"I mix in with the scene. Everything is fresh, and that's good," goes the hip-hop verse by Dag HaNahash. "After two years of Sodom and Gomorrah, I don't recognize myself in the mirror."
Welcome to The Bubble, as Israelis call it. Here, residents forgo news about Hamas rocket fire for an espresso, then mosey down to the beach. While Jewish settlers spar with Palestinians in the West Bank, "Tel Avivis" make merry at disco clubs.
"Here you have the freedom to dress the way you want, do what you want, and say what you want," says Tali Kushnir, owner of a vintage clothes boutique. "When we sit here we don't feel Gaza and we don't feel the settlements. We feel the beach breeze and watch people walking half naked in the streets."
Ms. Kushnir's shop, Machteret – Hebrew for "underground" – stands just blocks from where Tel Aviv was founded a century ago as the first "Hebrew city" – a Zionist fusion of modern Jewish nationalism and the land of the Bible. The shop is named after the Jewish militants based in Tel Aviv who prepared for what Israelis call the 1948 "war of liberation" against their Arab neighbors.
---