Catastrophe? Israel bans 'nakba' from Arab textbook.
The move to prevent Israeli Arab students from being taught that the creation of Israel was a 'catastrophe' for Palestinians reverses a 2007 decision.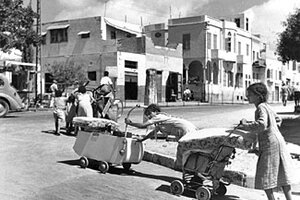 Courtesy of UNRWA archive in Gaza Strip
In the lexicon of the Israeli-Palestinian conflict, few terms elicit as much energy as the word nakba – Arabic for "the catastrophe," the term Palestinians use to describe the creation of the state of Israel in 1948.
This week, the term became even more of a lightning rod.
Amid a rising nationalistic tide in Israel's government, Education Minister Gideon Saar moved to expunge the word from school textbooks, reversing a 2007 decision.
"No other country in the world, in its official curriculum, would treat the fact of its founding as a catastrophe," Mr. Saar told Israel's parliament on Wednesday. "There is a difference between referring to specific tragedies that take place in a war – either against the Jewish or Arab population – as catastrophes, and referring to the creation of the state as a catastrophe."
Since coming to power in February elections, several right-wing parties in the coalition government of Prime Minister Benjamin Netanyahu have been lobbying for a no-tolerance policy toward Israeli Arabs identifying with Palestinian culture. A hallmark of that cultural identification is the marking of the nakba.
Each May, Israel celebrates its reemergence as an independent political identity after nearly 2,000 years of Jewish dispersion. At the same time, Palestinians solemnly mark the loss of their homeland as they knew it, and the beginning of dispossession and occupation.
---