Iran's hard-liners face off over cabinet
President Mahmoud Ahmadinejad fired his intelligence minister Sunday after being forced to remove his first vice president, a close adviser.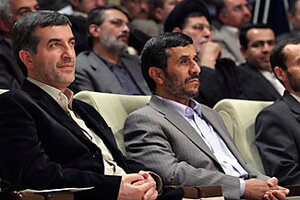 Yalda Moaiery/Reuters
A fresh outburst of protests was repressed in Iran Saturday as the struggle deepened among hardliners over appointments in the new government and the opposition movement claimed another "martyr."
After Supreme Leader Ali Khamenei delivered an angry reminder at last Friday's prayers, President Mahmoud Ahmadinejad backed down after a week of intransigence and accepted the ayatollah's written demand that he dismiss First Vice President Esfandiar Rahim Mashaei. The president's close adviser, whose son is married to Mr. Ahmadinejad's daughter, is still slated for a leading Cabinet role that would give him oversight of sensitive files such as energy and national security, after he was appointed chief adviser to the president.
Ministers fired and rehired
Ayatollah Khamenei's intervention was a clear example of the Supreme Leader exercising his prerogative to have final say on matters of national interest, such as Iran's nuclear program. But fallout from the row included the reported resignations of Intelligence Minister Mohsen Ezheie, Culture Minister Mohammad Hossein Saffar-Harandi, and Labor Minister Mohammad Jahromi. The sackings of the latter two were soon rescinded, but Mr. Saffar-Harandi announced later that he would resign anyway.
---