Israel sees more US 'understanding' on Iran's nukes
Defense Secretary Robert Gates reassured Israelis that the offer to talk to Tehran isn't open-ended, but some caution that Obama's basic policy on the issue has not changed.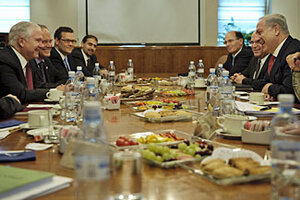 Jim Watson/AP
In Jerusalem on Monday, US Defense Secretary Robert Gates assured anxious Israeli officials that the window for dialogue on Tehran's nuclear program isn't open-ended.
"The president is certainly anticipating or hoping for some kind of a response [from Iran] this fall, perhaps by the time of the UN General Assembly [in September]," said Secretary Gates in a joint press conference with his Israeli counterpart, Ehud Barak.
The Obama administration from the start signaled its strong interest in a dialog with Tehran, and has reiterated that position – albeit in more muted tones – despite mass protests over Iran's disputed June 12 election. But Gates's comments have been interpreted by analysts and officials here as evidence of a growing US-Israeli understanding on confronting Tehran.
"Despite the differences over the settlements with Obama, the postelection upheavals in Iran and Khameni's more radical image have brought Washington and Jerusalem closer together on the issue of Iran," says Meir Javedanfar, coauthor of The Nuclear Sphinx of Tehran. "This has helped Jerusalem's cause that the threat posed by the Iranian regime needs to be addressed."
---