Hollywood in Baghdad: US spy thriller filmed partly in Iraq
The film crew of "Fair Game," a movie based on the Valerie Plame saga that will hit theaters next year, donned flak jackets and went to Baghdad in search of authenticity.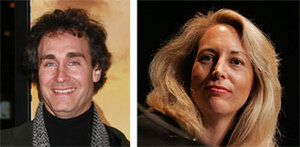 Newscom
Most movie directors and producers don't wear bulletproof vests when filming. But when the spy thriller "Fair Game" – starring Naomi Watts and Sean Penn – hits theaters next year, it will have the added distinction of being the first Hollywood movie to have been shot partly in Baghdad.
The film, by the director of "The Bourne Identity" and "Mr. and Mrs. Smith," is meant to be an entertaining and innovative spy movie rather than a faithful account of the episode in recent history it's based on – the unveiling of covert CIA agent Valerie Plame's identity by Bush administration officials in one of the most controversial sagas of the Iraq war.
"This is a real spy story, and it hopefully will be as exciting and successful as 'Bourne' was – it is 100 percent real, and part of chasing that reality involved coming here to Baghdad and filming," said director Doug Liman after a day's filming in June.
A task that, from outside the country at least, appears easier said than done.
---