Morocco suppresses poll despite favorable results for king
The survey found that 91 percent of Moroccans approve of the king, but the government seized the magazine that published it, saying the monarchy "can't be an object of debate."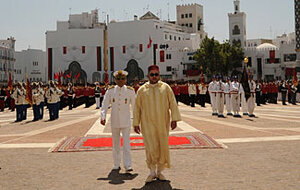 Royal Palace/Handout/REUTERS
A news weekly that dared to ask Moroccans what they thought of their king was seized and destroyed over the weekend – even though the survey's respondents gave the monarch an overwhelming thumbs up. Local and international human rights groups condemned the confiscation, but the Moroccan courts upheld it on Tuesday.
The unprecedented poll, conducted by the magazine TelQuel and the French daily Le Monde, coincided with the 10-year anniversary of King Mohammed VI's ascension to power. Printed in an issue titled "The people judge their king," the survey found that 91 percent of Moroccans hold a favorable view of the monarch.
But the issue was never allowed to hit the stands. Over the weekend, 100,000 copies of TelQuel and its sister Arabic-language publication Nichane were seized and destroyed by the Interior Ministry. On Monday, the issue of Le Monde that carried the poll results was also banned.
"I was ready to publish the results, whatever they were," says TelQuel's editor, Ahmed BenChemsi. "If the result were bad [for the king], it would have been risky to do it, because Morocco isn't exactly democratic. But the results weren't bad. I published them without any feeling of risk. When the magazine was seized, I was really shocked."
The ministry's actions – the latest in a series of clashes between the monarchy and the press here – were based on the Moroccan press code, which criminalizes "any offense towards His Majesty the King" and allows the seizure of publications "that threaten public order."
---