Despite bombings, Iraq confident it can maintain security
At least 49 people were killed and 230 wounded in the latest attack since US combat troops pulled back from Iraqi cities on June 30.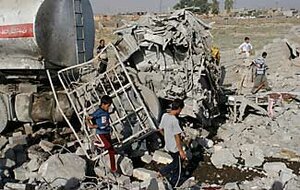 Khalid al-Mousuly/ Reuters
A series of bombings in Baghdad and Mosul on Monday killed at least 49 people and wounded more than 230 in the latest attack since the June 30 pullout of US combat troops from Iraqi cities.
The explosions were the latest in a series of attacks on Shiite targets that officials fear could spark retaliation, setting off a cycle of sectarian violence that could unravel security gains made under US control.
But Iraqi security officials dismissed suggestions that Iraqi forces might not be able to handle the ongoing violence without the help of US troops.
"These explosions are an attempt to prove the continued existence of terrorist groups," says Brig. Gen. Qassim Atta, spokesman for the Baghdad Operations Command.
In the biggest attack Monday, two truck bombs detonated before dawn in the village of al-Khazna, about 12 miles north of Mosul. At least 30 people were killed and 130 more wounded – most of them when the explosions toppled their homes.
The province's Sunni Arab governor blamed the attacks on lack of security by Kurdish forces protecting the area. Atheel al-Nujaifi says he had called just days ago for the Iraqi Army, rather than the – security forces attached to the Kurdish regional government – to step in and set up checkpoints in what he described as an area infiltrated by insurgents.
---