In Israeli army, rabbis deepen religious tone. Is that kosher?
One told soldiers in a pep talk during the Gaza war that their holiness would preserve them in the battle between the 'children of light' and the 'children of darkness.'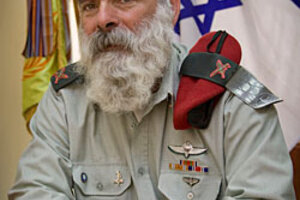 IDF/AP
In the final days before his infantry platoon entered Gaza last January against Hamas, "M." and his reservist buddies were approached by a representative of the military rabbinate. Would they be interested in a chat with a military clergyman during a break in training?
With no objections, they were introduced to a "Rabbi Chen," dressed in civilian clothes and red-bearded, who told the soldiers that "holiness of the people of Israel" would keep them safe.
The chat marked a more concerted effort by chief rabbi Brig. Gen. Avichai Rontzki and the military rabbinate – traditionally simply a provider of such services as kosher food – to reach the hearts and minds of soldiers. But what disturbed M., who requested anonymity for fear of a court martial, was what he saw as a violation of the army's code of ethics and ideological agnosticism.
Beyond charges of misconduct and war crimes, Israel's recent war in Gaza against Hamas fanned accusations that Mr. Rontzki is trying to remake the soldiers in his own hard-line religious nationalist image. At stake, critics warn, is the possible politicization of a military built as a people's army above the political fray.
"All these activities of the chief rabbi totally contradict the norms and morals of our army. We were raised on a humanistic army," says Ran Cohen, a former parliamentarian from the secular left-wing party, Meretz. "The minute our soldier will be educated as an antihumanistic soldier, it will destroy his moral resolve. That is why it is dangerous, because it can change the character of the army."
---