Huckabee reemerges – in Israeli settlements
The former, and perhaps future, US presidential candidate criticized Obama's policy, comparing rules about where Jews could live to racial segregation.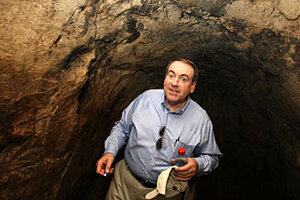 Ronen Zvulun/REUTERS
In the first major Republican challenge to President Obama's Israel policy, former US presidential candidate Mike Huckabee visited a number of controversial Jewish housing projects in Arab neighborhoods of East Jerusalem on Monday.
The former governor of Arkansas – a Southern Baptist minister who was one of the main contenders for the Republican Party's 2008 nomination for president – took issue with Obama's insistence that Israel freeze the expansion of all Jewish settlements in the West Bank, including East Jerusalem. Standing next to a new Israeli housing compound wedged into the Arab neighborhood of Abu Dis and abutting the looming cement security barrier, he compared placing restrictions on where Jews can live to the racial segregation of his childhood in the American South, saying, "I can't understand it at all."
Mr. Huckabee, who may well have designs on another presidential run, is in Israel as the guest of The Jerusalem Reclamation Project, run by the settler group Ateret Cohenim. Under the project, the group buys real estate – both land and existing buildings – in Arab areas of Jerusalem where Palestinians hope to make the capital of their future state. A tax-exempt organization that receives most of its revenue from US donors, the group also regularly moves Jews into Arab neighborhoods, which would complicate any effort to partition Jerusalem as part of a peace plan.
---